"To most people who look at a mobile, it's no more than a series of flat objects that move. To a few, though, it may be poetry" 
- Alexander Calder
Are you looking to bring a little poetry into your home? Something that makes you feel calm and centred when you watch it move gently in the breeze? Then, you're in the right place.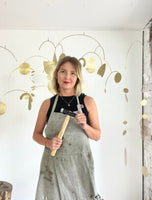 Meet Sacha
Sacha Jacobsen is an artist based in Sydney, Australia who likes to play with metal. Sacha makes beautifully balanced, one of a kind mobiles incorporating the golden hues of solid brass (along with a few other mediums). 
Sacha's mobiles are in high demand so get in touch if you have missed out, or better yet, sign up to her newsletter to be informed when new pieces are available.
Why not bring a little poetry into your home....